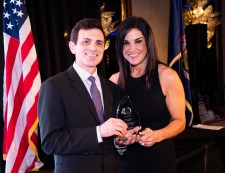 Award-Winning, New York Web Design and Digital Marketing Agency's CEO Recognized by LIBN
GARDEN CITY PARK, N.Y., February 14, 2020 (Newswire.com) - Dan Bowen, founder and CEO of Long Island web design agency BOWEN Media, has recently been honored as a "40 Under 40" honoree by Long Island Business News (LIBN).
The event, held at the Crest Hollow Country Club on Thursday, Feb. 6, 2020, celebrated 40 individuals aged 40 or under who have distinguished themselves in business, government, education, and the not-for-profit sector.
As CEO of BOWEN Media, Dan uses a combination of his future-thinking and UX-obsessed mindset, and 15+ years of self-taught wisdom, digital marketing, and creative agency experience to establish his business ahead of a rapidly changing industry. Focusing on constantly exceeding client expectations, Dan and the team at BOWEN have effectively serviced over 600 businesses worldwide in web design, marketing strategy, brand identity, and digital transformation.
In an interview with LIBN, Dan Bowen praised his wife and President of the digital agency, Natalie Bowen, as his inspiration. "She is the most driven person I have ever met. She pushes me every day to be the best version of myself."
To learn more about BOWEN, visit www.bowenmedia.com.
Source: BOWEN
Share: